Body Oil Infused with Gotu Kola
For stretch marks, scars, wrinkles or dry skin
---
---
Description
Our body oil prevents or reduces stretch marks and scars while also helping your skin stay hydrated and fight aging. The best part? No oily residue. A controlled dispenser and quick absorbing formula make it easier than ever to apply twice a day.
Uses
To prevent and reduce the appearance of stretch marks associated with pregnancy, significant weight loss, rapid muscle gain and more.
To reduce the appearance of scars or uneven skin tone.
To hydrate stubborn, dry skin.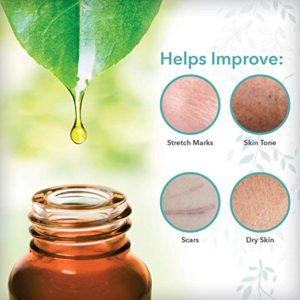 ---
During or After Pregnancy
During pregnancy, your body will undergo periods of rapid growth and change. Our body oil was designed to help pregnant women address stretch marks, dry/itchy skin and uneven skin tone.
Stretch Marks
While pregnancy stretch marks are most commonly thought to appear on the stomach, the truth is, it's extremely natural and common for stretch marks to also appear on the thighs, buttocks, hips, breasts and lower back. For as natural as stretch marks are, we understand that most women would rather do without them.
With our breakthrough body oil, you'll have an effective and safe method of preventing and fading stretch marks. For prevention, it reaches beneath your skin to support strength, elasticity and firmness – helping your skin stretch with support. For fading, it quickly absorbs and targets the layer of skin where your stretch marks actually exist and works to repair at the cellular level.
Dry, Itchy Skin
Varying hormonal changes during pregnancy and the stretching and tightening of the skin cause your skin to lose elasticity and moisture as it expands at an expedited rate. Symptoms of dry skin can affect any area of the body during and post pregnancy, not just the stomach.
With ReTone's body oil and it's ability to reach beneath your skin to hydrate and support regeneration at a deeper level, you can deliver your skin the moisture, nutrients, and care it needs to thrive through pregnancy and return to its pre-pregnancy state after delivery.
Uneven Skin Tone
Whether from darkened pigmentation, breakouts and acne, or varicose veins, many women experience an uneven skin tone during and after pregnancy.
With the help of its unique and powerful formula that's infused with a combination of essential oils and Gotu Kola, our body oil will not only help you even your skin tone, but also fight aging and maintain a youthful glow.
Try ReTone Risk Free

Learn More: Body oil vs. lotion: Which is better for your skin? We discuss the pros and cons of lotion and oil for body:
Because of Significant Weight Loss or Weight/Rapid Muscle Gain
As you lose weight and your body transforms, you may notice that your skin does not remain tight and firm to your shrinking frame. By using our all-natural, comprehensive body oil, you can still work toward healthy, beautiful skin as you shed the pounds.
If, when you gained weight, your body carried that weight for a long period of time, your skin's collagen and elastin fibers became weak, endured some damage, and lost their ability to completely retract during weight loss.
Our body oil is formulated to help keep your skin smooth, firm, supple and – above all – support your skin to regain strength, elasticity and firmness.
If your weight gain or weight loss resulted in stretch marks on any part of your body, you are not alone, as this is a very common thing to happen.
ReTone's body oil works to reduce the appearance of stretch marks during
and after weight loss by delivering antioxidants and other ingredients deep into the skin to effectively target the layers of skin where stretch marks exist.
If your goal is to achieve an even, youthful looking skin tone during your weight loss journey, our body oil encompasses everything your skin will need to look healthy and vibrant.
Because it's infused with a combination of essential oils and Gotu Kola, your skin will absorb rich, safe and nourishing ingredients to truly radiate its best glow.
Try ReTone Risk Free

Learn More: Exercise is proven to benefit your skin health & complexion. Find skin tightening exercises for the stomach, arms & legs:
Directions
Gently massage Body Oil into dry skin twice a day – once in the morning and once at night.
| | | |
| --- | --- | --- |
| Quick Absorption | Non-Greasy Formula | Controlled Dispenser |
| Mineral Oil Free | No Artificial Colors | Not Tested on Animals |
Ingredients
Canola Oil, Isopropyl Palmitate, Dimethicone, Cetearyl Ethylhexanoate, Jojoba Oil, Avocado Oil, Gotu Kola, Argan Oil, Tamanu Oil, Rosehip Oil, Tocopheryl Acetate (Vitamin E), Tetrahexyldecyl Ascorbate (Vitamin C), Caprylyl Glycol, Fragrance